Marylebone Rifle & Pistol Club
British Pistol Club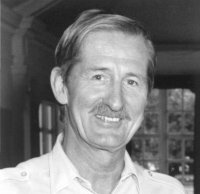 As a member of the Marylebone Rifle & Pistol Club, and the British Pistol Club I had shot in Holland at the Oranje Nassau Ranges in the 1970s several times, and had met your Dutch equivalent to Winston Churchill, Stek Geerts and his wife Willie and like all the Brits was envious of your Officials.
When Stek and a few members of the KNSA suggested that a week-end air weapons shoot would be held in Holland I happily agreed to ensure that GB would be represented by the BPC and MRPC as well as, later, the National Pistol Association and the Scottish Pistol Association. National squad members from Wales, England and Scotland have also happily journey to the Hague for two or three days of international air pistol shooting held under strict (but friendly) UIT rules. I was able in the 90s to bring a small group of wheelchair shooters to InterShoot, and although the ladies were unable to stand "unsupported " as UIT rules dictate, two of the paralysed ladies were able to produce scores that were in the winning area. Isabel Newstead went on to win a Paralympic pistol gold in Australia and Di Coates won the bronze there in the rifle event..
In GB our pistol shooting is controlled by the National Smaflbore Rifle Association, for air and .22 shooting, and by The National Rifle Association for full bore, and as their titles suggest they are mainly interested in domestic rifle shooting. Distances for domestic pistol shooting is set at 6 yards, 10 yards, 20yards and 50 yards. And
ranges are all designed for these distances.
The British Pistol Club was formed by enthusiastic pistol shooters who wanted to shoot in metres at international distances and at international targets in order to take part in European matches, and even perhaps the Olympics. We were a happy band of rebels and had much in common with a few riflemen, the greatest being Malcolm Cooper whose recent death has saddened us all. He won a European gold Medal at 300m when there were no 300m ranges anywhere in GB. Malcolm's wife Sarah has shot rifle at InterShoot.
InterShoot has been the training ground certainly for British pistol shooters, and most GB squad members were regular visitors to the Bel Air Hotel. Enjoying dinner at the Swiss restaurant in the Hague and exchanging banter with the efficient barman downstairs in the Bel Air were part of the annual pilgrimage to Holland for some
"proper competitive shooting". We all learned a lot, and in the pleasant process made some good friends.
Finally may I say thank you for this chance to say thank you to all and every one of the Dutch Range Officers and helpers who gave us so much pleasure, and enabled us Brits to become better shooters and competitors. We may not have become world beaters, and with the ban in Britain on .22 and full bore pistols the chances of our producing any World pistol champion is rare, but the Brits will still continue to come to Holland and enjoy your unique hospitality as long as you are prepared to host InterShoot.
Robin Macdonald