InterShoot's Silver Jubilee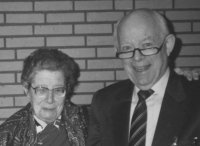 England and the Netherlands have always had a close friendship through our Shooting Sport, and during the past twenty-five years that friendship has grown stronger and deeper.
Although England has not always been able to send a Team to Holland, English Shooters have been supporting InterShoot "since time immemorial". The very first International Shooting Competition, at Zoetermeer in The Netherlands, thought-up by Mr. Stek Geerts (who was the first Chairman of InterShoot), and organised through the KNSA, was between the Netherlands, Belgium and the "English" (even though most of them were from the British Pistol Club). In 1978 Mr. Stek Geerts and Mr. M. van der Caaij sent the first Official Invitation to England, but it was not until 1980 that we were able to make arrangements, not only to bring a Team, but also to organise financial support for the Team Members.
England's first visit in 1980 was not to Zoetermeer, but to the new 10 metre range in the old Wood Sawing Works, called "de Houtzagerij" in the Hobbemastraat in the centre of the Hague, and at that time we stayed at the Europa Hotel in Gevert Deynootweg, as did many of the other Team Members. By 1980 the number of Countries had grown from three to twelve (still plus the British Pistol Club). Newcomers during those three years had been France, Germany, Yugoslavia, Luxembourg, Norway, Switzerland and our three "sister" countries from the United Kingdom – Scotland, Wales and Northern Ireland. (In the 1980 results though, England are listed as "GB".)
The two words "Inter Shoot" was a name that almost anybody could have used, but in 1982 Stek Geerts had another bright idea, so he changed it to "InterShoot", an unique one word name that only InterShoot can use, and they do so to this day. In 1982 we also moved to the Bel Air Hotel, in Scheveningen, and we are still happy to stay there during InterShoot twenty years later.
In 1983 there was no InterShoot because of the European Championship for Airguns was in the Netherlands, and in 1984, for entirely domestic financial problems, England were prevented from bringing a Team. However, during 1984 we were able to solve our problems. We could bring a Team in 1985 and we have brought one every year since that time.
In October 1988 the Founding Chairman Stek Geerts passed away, leaving great sadness in the hearts of all those who had been coming to InterShoot and who knew him as a good friend.  As the "Father of InterShoot" Stek did an enormous amount of work to first get it off the ground, and then to keep it going and he will never been forgotten. Seeing Stek's Widow, Wil Geerts (now Mrs de Jong) still supporting the Competition after 25 years still reminds us of those "good old days".
In 1992 the old "de Houtzagerij" was pulled down, but the organisers found us an even better range, and in 1993 we moved to the Ochenburgh Sports Centre near Scheveningen.  In December 1988 three of the Organising Committee Members – John Speetjens, Robert van Eik (who sadly also passed away in 2001) and Willy ten Bosch, asked Egbert IJzermann to be the Chairman in place of Stek Geerts, and Egbert agreed. So it is Egbert who will be leading us during the celebrations of the Silver Jubilee.
Since 1980 the England Team has shot in InterShoot twenty times. Personally I have only missing 1990 (the Commonwealth Games in New Zealand) and 1995 (due to a stay in Hospital). My wife, Norah, has been to InterShoot with me twelve times and we now both feel part of InterShoot. All the friends that we have met in The Hague have made us "part of the family", and we are both looking forward to England's twenty-first, and my own nineteenth, visit in 2002.
Congratulations to InterShoot – and may the next 25 years be as successful as the previous 25 years have been!
John Hunter
(President English Small-bore Shooting Union.)