I N T E R S H O O T (International shooting)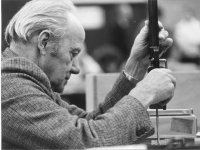 Now an established event both in and outside the Netherlands.
It all started in 1977 when in January 4 countries showed up – by invitation of the KNSA - on the doorsteps of the Zoetermeer shooting ranges to participate in the qualification matches for the European Championships Air Weapons in Andorra which were to take place on the 13th and 14th of February that year.
The 'Bondsbureau KNSA' took care of the invitations abroad.
Stek Geerts and his men ran the organisation of the matches in Zoetermeer.
The participants weren't limited to men only; there also was a good selection of women participants as well.
Two days of competitive shooting with the following results for the Dutch participants:
Men pistol:
2 Rob Jansen, 3 Nico Schoonderwaldt, 6. K. Schoonus, 8 G.Stegeman, 9. Robert van Eijk with a total of 25 shooters.

Ladies pistol:
1 Greet de Waal, 2 Jetty Kolling, 4 C.van Tongeren, 5 M.de Wacht with a total of 8 shooters
Men Rifle: 2 Willy Hillen, 6 Gijs Brinkhof, 7. J.Verbruggen, 10 Borgerink with a total of 12 schooters.
Ladies Rifle: 2 Joke Hillen, 3 S.Monnickenhof, 4. A.Budde with a total of 4 shooters.
The junioren pistol results were F.Fisher 2nd and H.Finkelnberg, J.v.d.Spek en R.Zietze took 4th to  6th place with a  de total of  6 shooters.
The junior rifle participants  were very new to the game and ended on 7e to  9th place of the 9 shooters.
This first KNSA initiative has grown (and still is growing!) to a yearly qualification event for the participants of the European Championships Air weapons, that is held in February.
It was very clear that the international shooting community needed these types of qualification matches for the yearly European Championships Air weapons.
This Dutch initiative paid the greatest of tributes to the KNSA!
This 1977 initiative with two full match days (by now three) was a direct hit and was to be continued for years to come.
The Silver anniversary is almost here – maybe there will even be a Golden Anniversary?
1978 saw the second incarnation of the InterShoot, which was held again in Zoetermeer from 13 to 15 January.
There were 70 participants from 4 countries in 1977, 1978 saw 146 participants from 10 countries!
The number of participants and countries grew over the following years and with the participation of many well-known international shooting celebrities it was wonderful to watch!
Mar van der Caaij.