InterShoot Den Haag.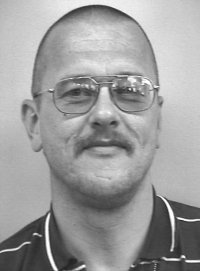 InterShoot had an entirely different meaning to me: to me it meant (many) strong stories, a lot of fun en an enjoyable banquet at the end of the tournament. Well, I was keen to be part of it all so I contacted John Speetjens, one of the driving forces behind the event. I enlisted and arranged the required days off work.
It all started on the Tuesday evening. Everything had to be loaded into the van that John had organised. As the van was way too big to drive along the path leading to our clubhouse, especially due to all the lampposts, the whole shooting match had to be dragged to the van. Luckily everything is on pallets with wheels these days, so everything worked out quite easily. And how easy it was, was best illustrated by the stories about a small cellar in Rijswijk that was only accessible via small staircases and how much sweat that used to cost. Also this time we couldn't finish the job without getting our backs wet, but everything went smoothly all right. In the evening the van was offloaded at the Ockenburgh Sporting Centre.
Wednesday it was back to Ockenburgh. Good grieve, what a mess it was in the hall! And people are supposed to shoot in there in the evening? We'll never make it! Especially not so when everyone started running around like drunken ants and the Häring crew showed up with another van full of stuff. John quite cleverly put me in the team to offload the van and I also could assist with the building of 10 computer ranges at the same time. Quite difficult, helping a bunch of Germans when you don't speak a word of German! Oh well, Rudi Carell didn't speak any German and he became of world fame in that country, so there is still hope.
In the evening the hall turned into an ants nest of training and chatting shooters, coaches, organisers and other people. It seemed all very cosy for everyone and it would also appear that InterShoot also has a social function.
Thursday was the first real match day. And yes, I was to act as one of the Range Officers. What it was we had to do? Well, we were supposed to walk past the competitors with an important looking face and ensure that nothing illegal took place. Oh, and I would almost forget: we were also supposed to collect the targets from the shooters and get them to the scoring room as fast as we could.
The Friday and Saturday were much the same as the Thursday as far as shooting goes. There only was a small problem with transporting the shooters. The organisers had organised a bus for that purpose but the bus didn't show up on the Saturday. A very angry little fellow with a grey goatie, who drives buses for a living, left Ockenburgh fuming with anger and jumped behind the wheel, in spite of the fact that he had many other things to do. We all felt sorry for the guy in the HTM-garage that would bump into him.... Anyway thanks to his improvising everything simply started an hour later than planned that Saturday. Also for this action many coaches expressed their appreciation.
"… PUT A DRESS ON!!! …"

I liked the previous edition of InterShoot so much that, when it finished, I decided to volunteer for next year's event. Immediately after the week of hard work I arranged some days off work for next year.
There was quite a bit of renovation to be done and every year there are things that can be improved upon, so sometime in October we started sandpapering, painting, welding, etc.
It struck me that one of the hard workers was advised to 'put a dress on' every time he complained of being tired or having hurt himself a bit. In the end we had a good laugh about his reaction.
On the Wednesday morning all the helpers started to come in and within minutes we were laughing again, until the whip came out at nine o'clock sharp and we were kicked back into working mode: there were lots of things to be done that day.. It's a great relief to see that so few people can perform so much work in so little time. Some 55 years ago Sir Winston Churchill said something similar.
The Friday morning I showed up fairly early as I had anticipated quite a bit of travel time due to the weather. One of the guys, some sort of colleague of mine, addressed me and asked what on earth I thought I was doing.
"Are you mad?" he inquired angrily. "Don't ever do that again, you idiot!" As I had no idea what I was doing wrong I violently told him so and mentioned that I was only doing what I though to be the right thing to do.
"Yeah, that's all fine and dandy but you really should take things easy and don't start working so hard at this time of day when I am around. I can't handle that!".
I recovered slightly, wheeled him into the coffee corner and handed him over to those present there in order for me to continue working.
The Saturday was quite uneventful, except we had lots of laughter.
Before the match when we were having our coffees, someone walked through the corridor and quickly shouted 'Morning!!' A few seconds later someone entered the door and shouted loudly:
"I was supposed to put on a dress, wasn't I? Well, here I am!"
Everyone rolled over with laughter: a two meter tall guy in a short, flowery dress with spaghetti straps over his shoulders, two hairy legs and open army boots underneath. We made some pictures and stuck them to the walls at strategic locations. He had his coffee in this outfit and when Robin had to do something in the main hall and needed some help, our dressed up guy went with him into the main hall. Quite a few people raised an eyebrow and some of the Brits had a good laugh. I am not sure if this behaviour is good for the InterShoot image, but I'm sure we'll find out next year.
Two Welshmen had bought a new outfit and wanted to try it out, so they entered the ranges whilst some selected few were shooting their finals. One of the guys only shot tens, something he had great difficulty with during his series. He was quite content with that as I heard him say whilst packing his gear "Olympics 2004, here I come!!!" See, that's what InterShoot and a new outfit do to your self-confidence...
Eric Hoogstraat.