VERBAND LIECHTENSTEINER SCHUTZEN VEREINE
(Liechtensteiner Shooting Association)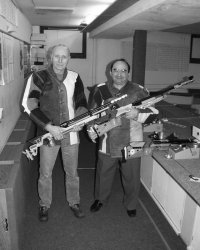 Congratulations with the 25th anniversary of your InterShoot competition.
The Liechtensteiner Shooting Association and her members congratulate the organising committee as well as the de Koninklijke Nederlandse Schutters Associatie with the 25th anniversary of the InterShoot competition in Den Haag.
To our association this match represents a yearly element on our calendar. The timing is excellent to test the abilities of our shooters. Also the level suites us very well as we still are a small association and do not have a large choice of top shooters. This way also a Liechtensteiner competitor can shoot among the best-classified shooters.
Competetent and professionally trained people always run the match. One feels very relaxed in this environment, as everyone is very friendly and helpful. From this location we would like to thank you very much indeed!
Despite the long distance our shooters have to travel, we always enjoy coming to this match. Also, we find the city of The Hague fascinating. Every year we find new beautiful and interesting sights to see.
During such a long journey all sort of things happen. One day, on our way home, we spotted a large billboard, reading 'Welcome to Nordrhein-Westfahlen' and at the same time we were hit by a barrage of flashlights, as the police was taking pictures of us.
Some other time we had to make a very large detour as the countryside was flooded. This was very impressive from someone from the mountains and is used to water flowing down, i.e. down the river Rhine to the Netherlands.
Something we always look forward to is when the canals are frozen over and the ice skaters are doing their tours.
It's a terrific country, also in winter, this Holland thing.
Once again, the most sincere congratulation and many greetings from the Liechtensteiner Shooting Association
Josef Brendie                                    Bruno Andreoli
Vice-president                                    Chief Trainer